Our incredibly dedicated supporter base is essential to the success of Northampton Saints, and we're delighted to be able to offer our supporters a brand-new way to feel closer to the Club with a Saints Membership.
The Saints Membership – which costs just £20* (adults) or £10* (juniors) per season** – has a number of exclusive benefits including access to Saints Rewards, an innovative new programme in which you can earn loyalty points to redeem against limited-edition merchandise and money-can't-buy experiences, facilitated through an online app.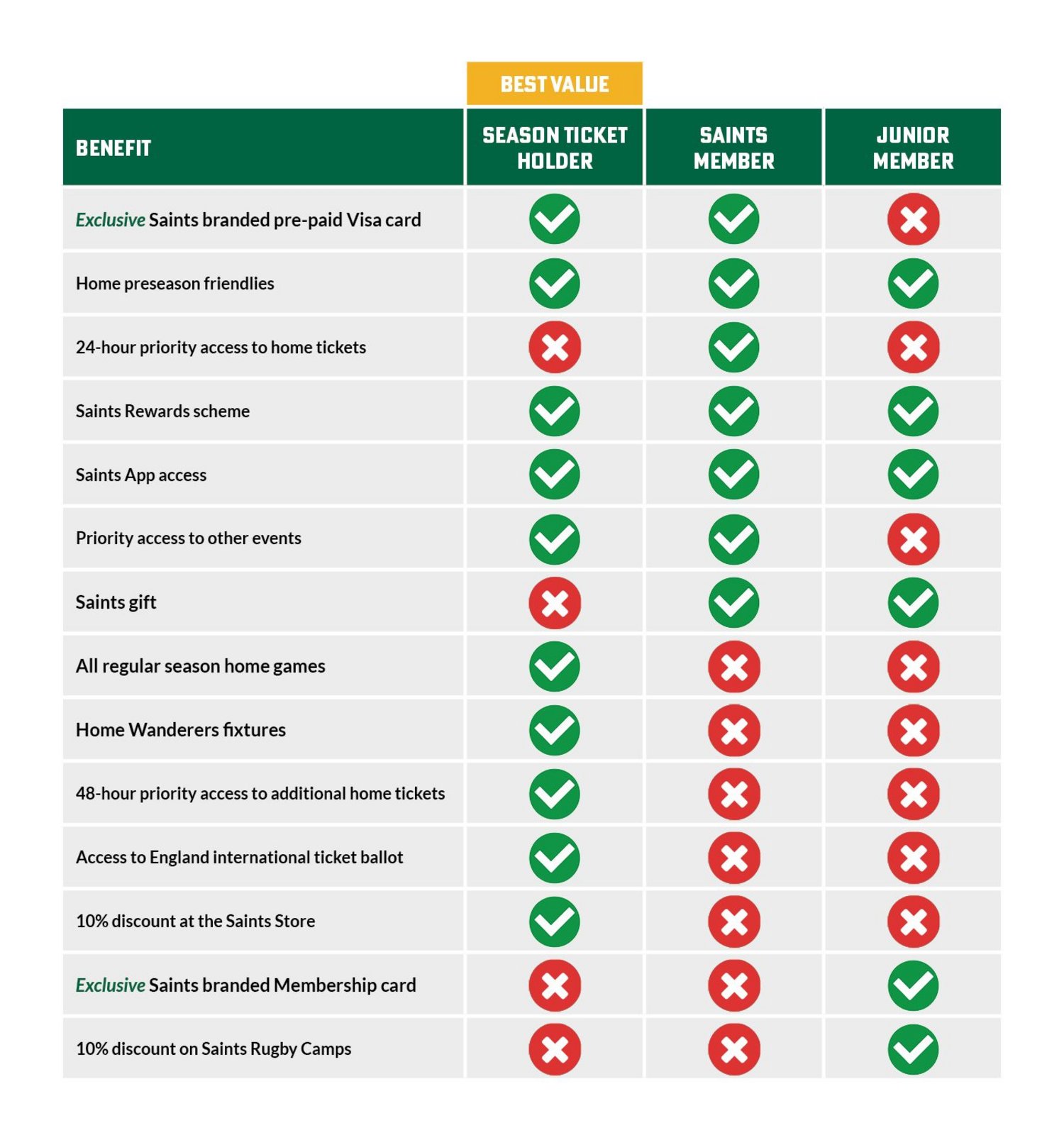 ADULT MEMBERSHIP – £20* per season
24-hour priority access window to purchase tickets to Saints home games
Priority access to tickets for other events at Franklin's Gardens
Free entry to any pre-season friendlies held at Franklin's Gardens
Exclusive Saints-branded members pre-paid Visa card
Access to Saints Rewards programme
A Saints gift
JUNIOR MEMBERSHIP - £10* per season
Free entry to any pre-season friendlies held at Franklin's Gardens
10% discount on Saints' non-residential rugby camps
A welcome letter from one of Saints' Club co-captains
Access to Saints Rewards programme
Exclusive Saints-branded Membership Card***
A free Saints water bottle
*subject to a £1.50 booking fee
**A Saints Membership is a year-long subscription that runs from July to June – renewal of 2021/22 Membership for the 2022/23 season will be needed to keep benefits beyond June 2022.
​***To activate your Membership card for Pingit for Clubs you must be 16 or older and a UK resident who is solely resident in the UK for tax purposes. A UK personal current account is required to register for Pingit for Clubs. If you choose not to activate your membership card for payment, your card will still provide access to the Saints Rewards programme. T&Cs apply.