Northampton Saints have joined forces with the Northampton General Hospital NHS Trust to deliver maternity care at Franklin's Gardens during the Coronavirus pandemic.
With Hospitals and GP Surgeries under pressure at the moment, the Club has made several boxes within the Carlsberg Stand available for Northampton General Hospital's midwives to offer expectant mothers appropriate care.
Northampton players and England internationals Lewis Ludlam and Paul Hill were on hand on Saturday to help hospital staff safely move their equipment into the stadium – following all social distancing guidelines in the process.
Tighthead prop Hill, 25, is himself expecting a new arrival this month and was proud the Club could support the local health service during a time of substantial need.
"It's great to see the Community Midwives given a temporary home here at Franklin's Gardens where they can continue their vital work supporting expectant mothers," he said. "My fiancée is due in the coming days so no doubt we will be back here ourselves!"
"It was a pleasure to lend a small hand to the Midwives to help move their equipment."

Paul Hill
"All NHS Staff and emergency service workers deserve our gratitude for all their hard work and the sacrifices they have made in recent weeks. We just urge the Club's supporters and everyone else to continue to follow the guidelines – remaining at home as far as possible, washing hands thoroughly and practising social distancing."
A total of 15 midwives and support staff are now running clinics at Franklin's Gardens from 8.30am to 4pm, Monday to Friday, conducting antenatal checks for women in the first weeks of their pregnancy all the way up to their due date.
The maternity care clinic will be just as safe as services already provided by the NHS Trust within the community and in GP clinics.
Anne Richley, community midwifery matron, added: "We had been working in doctors' surgeries but understandably GP's were reluctant to have healthy women walking in there, so for a few weeks we centralised the community maternity service in the Day Surgery Unit in the basement of the hospital.
"Now that Unit is starting up again, which is fantastic, but it meant we had to look for a new venue – and Saints has the perfect space for us, with a number of private rooms now kitted out with everything we need, and people having their temperature taken at reception as they come in.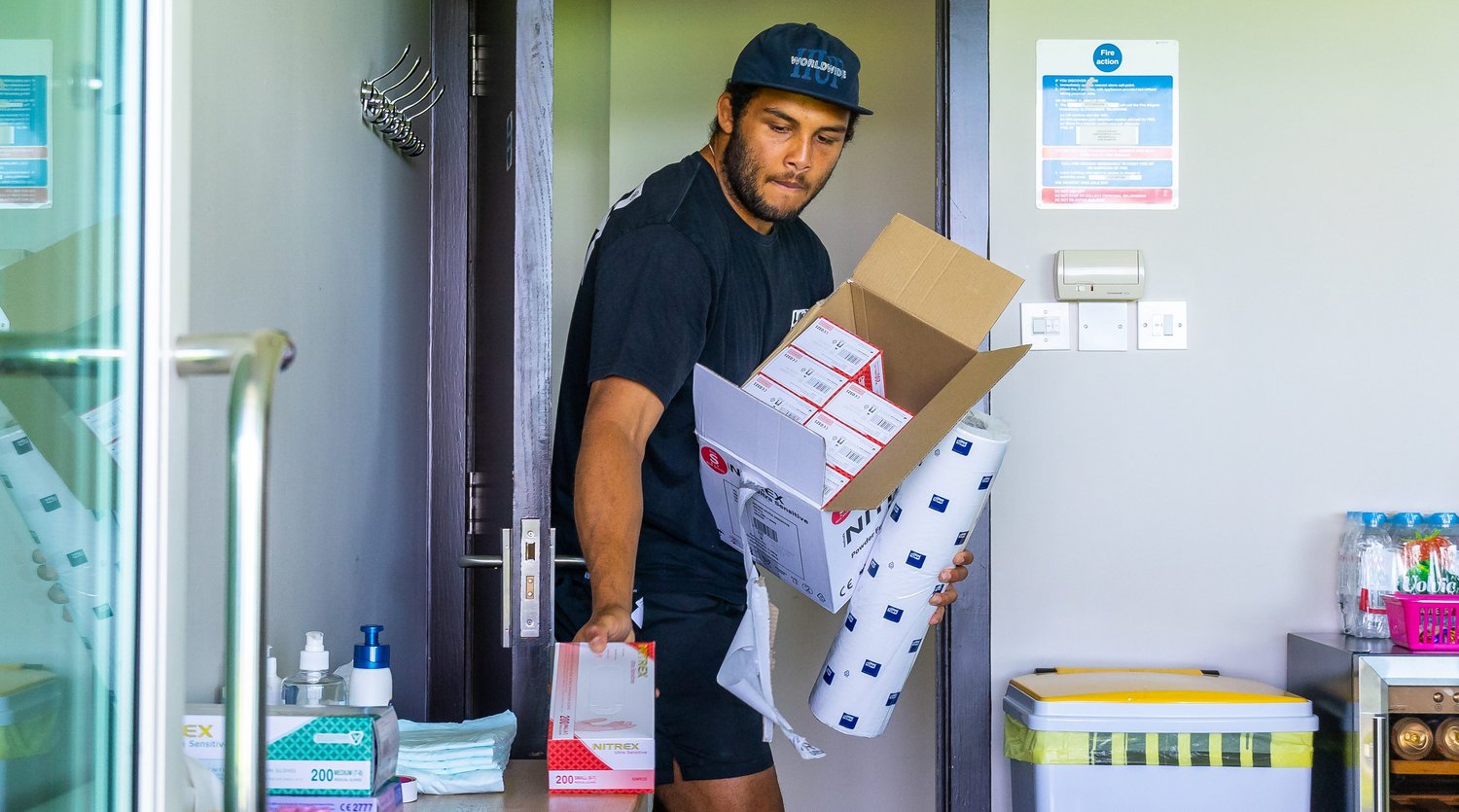 (Above: Lewis Ludlam helps deliver midwifery supplies to Franklin's Gardens)
"We also get an idyllic view over the recently regrown pitch! So, going from the basement of the hospital with no natural light, to what we have now is glorious.
"Some mothers were really nervous about heading into a hospital, so we put plenty of measures in place to combat that, and it seems they are more relaxed here – and you can tell some of their male partners are very jealous dropping them off at the stadium!
"Some of the midwives are Saints supporters too, so we'll be back here to watch some rugby when it is safe to play again, and we've looked after lots of players' partners in our time and delivered lots of Saints babies."
To book an antenatal appointment now, please call 01604 523364. New pregnancies please call 01604 545430 to get started.