Stadium opens 1pm, Saints kick-off 3pm, Lightning kick-off 5.15pm.
One ticket, two games – enjoy a Double Header of games for the price of a single ticket, from just £20 adult / £8 child.
Earn double Membership points on all in-stadium spends after 5pm.
With the Cobblers also at home and extra roadworks in town, make the most of the extra events on Saturday to avoid the traffic!
Lightning supporters: please note Car Park entry closes at 4pm to allow a one-way system to come into force after Saints' game ends.
Drop your EcoCup in one of the marked bins to make a donation to Northampton Saints Foundation.
Northampton Saints will kick-off a jam-packed afternoon of rugby on Saturday in Northampton with a Gallagher Premiership clash against Sale Sharks at 3pm, before Loughborough Lightning round off the action against Exeter Chiefs in the Allianz Premier XVs.
It will be the first time Loughborough have played in front of a cinch Stadium at Franklin's Gardens crowd, meaning Saturday marks a significant landmark for both clubs.
COMING TO THE STADIUM
There are a few things you'll need to be aware of before you arrive at cinch Stadium at Franklin's Gardens....
1. MATCH TICKETS
This Saturday's clashes are both included within your 2021/22 Season Ticket package, Season Ticket Holders can present their Season Ticket cards at the turnstiles and head to their usual seats to watch both games.
Tickets are on sale from £20 adult / £8 child* – if you haven't already secured yours, CLICK HERE to purchase now in advance of the game. Please note; tickets prices rise by £3 per ticket if purchased on matchday.
Tickets will be available to purchase from the Ticket Office from 10am, with the windows re-opening at half-time during Saints' match (from approx. 3.45pm) and again for 30 minutes between the fixtures (from approx. 4.45pm). Please note; tickets will still be charged at full price throughout matchday, even if purchasing after Saints' game.
Your match ticket must be downloaded prior to arriving at the stadium and either printed on A4 paper or viewable on your smartphone. Screenshots of your tickets are not accepted by the scanners on our turnstiles, so please make sure you have a print or digital copy ready when you arrive. Click here for a step-by-step guide of how to download your ticket(s).
Those that have not printed their tickets at home, or are not able to show their barcode on a mobile phone, will be able to have their matchday ticket printed at the Ticket Office for a £2.50 fee.
2. COBBLERS AT HOME & ROADWORKS
As Saints welcome Sale Sharks, our neighbours at Northampton Town FC are also playing at home against Colchester.
Cobblers kick-off at the earlier time of 2pm but please make sure you leave plenty of time to make it into the stadium ahead of kick-off as there will likely be some congestion on the roads close to the stadium and around Sixfields.
There are also some roadworks closing part of the A45 on Saturday, with a diversion bringing traffic around the Sixfields area, so make the most of the extra events going on at the Gardens to avoid the traffic!
3. ARRIVE EARLY & EARN REWARD POINTS + DOUBLE POINTS AFTER 5pm
Season Ticket Holders – scan in through the turnstiles at cinch Stadium at Franklin's Gardens before 2pm on Saturday and we'll give you an extra 20 Rewards points to spend in the Saints Rewards app.
And you can earn double Membership points on all in-stadium purchases using you pre-paid Saints Membership or Season Ticket card after 5pm!
PRE-MATCH
The Saints Store is open from 10am on matchday until kick-off (3pm) and will reopen after full-time of Saints' match until Lightning's game gets underway. Once you have entered the ground, you will not be able to access the Store, so be sure to do all your shopping when you arrive or as you depart. Our Saints Store Kiosk (located inside the Supporter Village) will open at 1pm until around half-time in Lightning's match (approximately 6pm).
Guitarist Hannah Faulkner will be playing a set in the Supporter Village before Saints' match on Saturday; Hannah will begin from 2pm so head along to listen before the action on the pitch gets underway.
The Club requests that supporters refrain from standing at the side of the pitch to watch the warm-up to prevent congestion. Please watch the warm-up from your seat.
As both sets of teams run out onto the pitch, there will be a pyrotechnic display (in front of the Church's Stand) – please be advised this may include a series of loud bangs/crackles.
CAR PARKING
Car Parking (in Claret Car Park, NN5 5JT) will be available for £7.50 on the day via contactless payment upon arrival. Car parking tickets are not available to purchase in advance. Car Parks open at 12pm, with the stadium opening its gates at 1pm.
Please be aware that entry to the Car Parks will close at 4pm to allow the one-way system to come into force after Saints' game ends.
Please also be aware that there will be no movement in the VIP Car Park from ten minutes before the full-time whistle for approximately 25 minutes. As usual, traffic management will be in place in Car Park D, Claret Car Park and on Edgar Mobbs Way.
After the Car Parks close at 10pm on Saturday, there will be no access to any vehicle left in the Car Parks until Monday morning.
Given that cinch Stadium at Franklin's Gardens sits in a residential area of the town, Saints strongly urge all supporters to use the Club's car parks. Should they choose not to do so, supporters must park with due care and respect for the needs of local residents and businesses.
SMOKING
cinch Stadium at Franklin's Gardens is now a NO SMOKING stadium. Smoking and the use of e-cigarettes is not permitted anywhere in the stadium or Supporter Village pre, during or post-match.
Supporters wishing to smoke will be allowed to exit the stadium during half-time to use one of the designated smoking areas outside Gates 1, 2, 3 and 4 – stewards will be on hand to direct you and will manage exit and re-entry into the stadium.
AROUND THE GROUND
You can head to the Family Zone ahead of the match to have a go at Saints' passing challenge and see our face painters!
Club of the Match, Ely Tigers, will be in the Village before the game for a shirt presentation as well as forming the Guard of Honour as Saints run out.
A wide selection of bars and food stalls will be open within the Village and stadium throughout matchday, including the Real Ale and Warner's Gin bars in the Supporter Village. Please be aware that cinch Stadium at Franklin's Gardens is now a cashless stadium; all bars and food outlets will only accept card payments.
We'll also be joined by Bruce Green Foundation, who will be bucket shaking around on Saturday; the Bruce Green Foundation is dedicated to improving the lives of disadvantaged children and young people in Northamptonshire. Over 15,000 young people have benefited from their work, which focuses on inspiring outings and trips. Please give generously!
Don't forget, you can drop your EcoCup in one of the Northampton Saints Foundation's branded bins around the ground – the Foundation will receive a donation for every cup deposited, with funds raised supporting life-changing programmes for children across the county. To see where you can donate your cups, please CLICK HERE.
IN THE INTERVAL
There will be approximately 30 minutes between the Saints and Loughborough matches, with Lightning kicking off at 5.15pm.
Stick in your seat in between the two matches to enjoy some music from operatic soprano Emily Haig.
Hannah Faulkner will be back in the Supporter Village performing for half an hour after the Saints match – so you can head out there to catch some more tunes before Lightning get underway.
The Main Saints Store will remain open for approximately 30 minutes after Saints' match, with the Store closing again as Lightning kick-off. The Saints Store Kiosk (in the Supporter Village) will remain open throughout the afternoon, closing at half-time in the Lightning match (approximately 6pm).
The Club requests that supporters refrain from congregating around the tunnel after the Saints game, with only 30 minutes between the two matches there will be plenty of activity within the stadium so please stay away from this area to avoid congestion.
Turnstiles at Gates 1 & 3 will remain open throughout the afternoon to allow for any late arrivals ahead of Loughborough's match.
POST-MATCH
There will be a staggered bar closure around the stadium, ending in the Rodber Bar at approximately 7.30pm.
Car Parks will close at 10pm on Saturday. After the Car Parks close, there will be no access to any vehicle left in the Car Parks until Monday morning.
DIVERSITY & INCLUSION HUB
Our Diversity & Inclusion Hub is located in the Supporter Village, and this Saturday you can pop along to the Marquee to hear about the Club's activities this month.
We're also inviting supporters and members of Saints Sinners in to the Inclusion Hub to find out how they could become involved in supporting the Hub on matchdays.
You'll also be able to find out about everything the Club is doing around accessibility and inclusion on matchdays, as well as how you can borrow one of our new sensory bags or collect an accessibility passport from our team.
You can find more information on the Hub as well as links to useful support organisations HERE. Or to get more information on Inclusion at Northampton Saints, please email [email protected].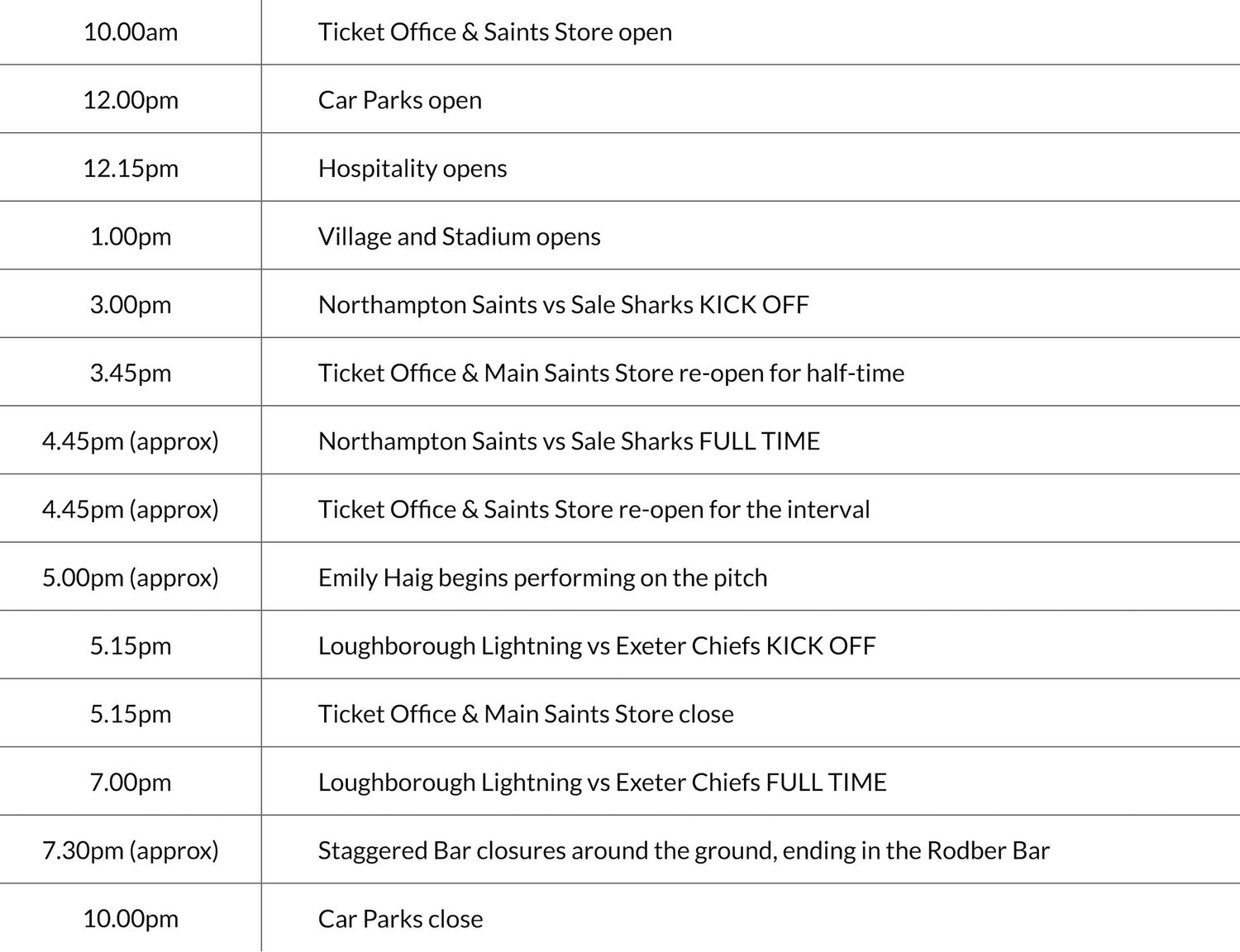 * All ticket prices are subject to a £1.50 booking fee.