In just a few days the Saints will be opening their home Aviva Premiership campaign at stadiummk, where they will host Newcastle Falcons on Saturday, October 24th. Although the Saints have played in Milton Keynes on a number of occasions it's always good to familiarise yourself with the venue and to plan your day in advance!
---
TICKET UPDATE
Tickets for this game have been sent out to all ticket holders. Please do NOT contact the Saints Ticket Office until Tuesday, October 20th with any queries about un-delivered tickets. Tickets remain on general sale - CLICK HERE to order online 24/7!
See this map for confirmed block locations within stadiummk, and note the gate that is closest to your allocated block. Once inside the stadium concourse you will be able to access the Arena Match Day Village.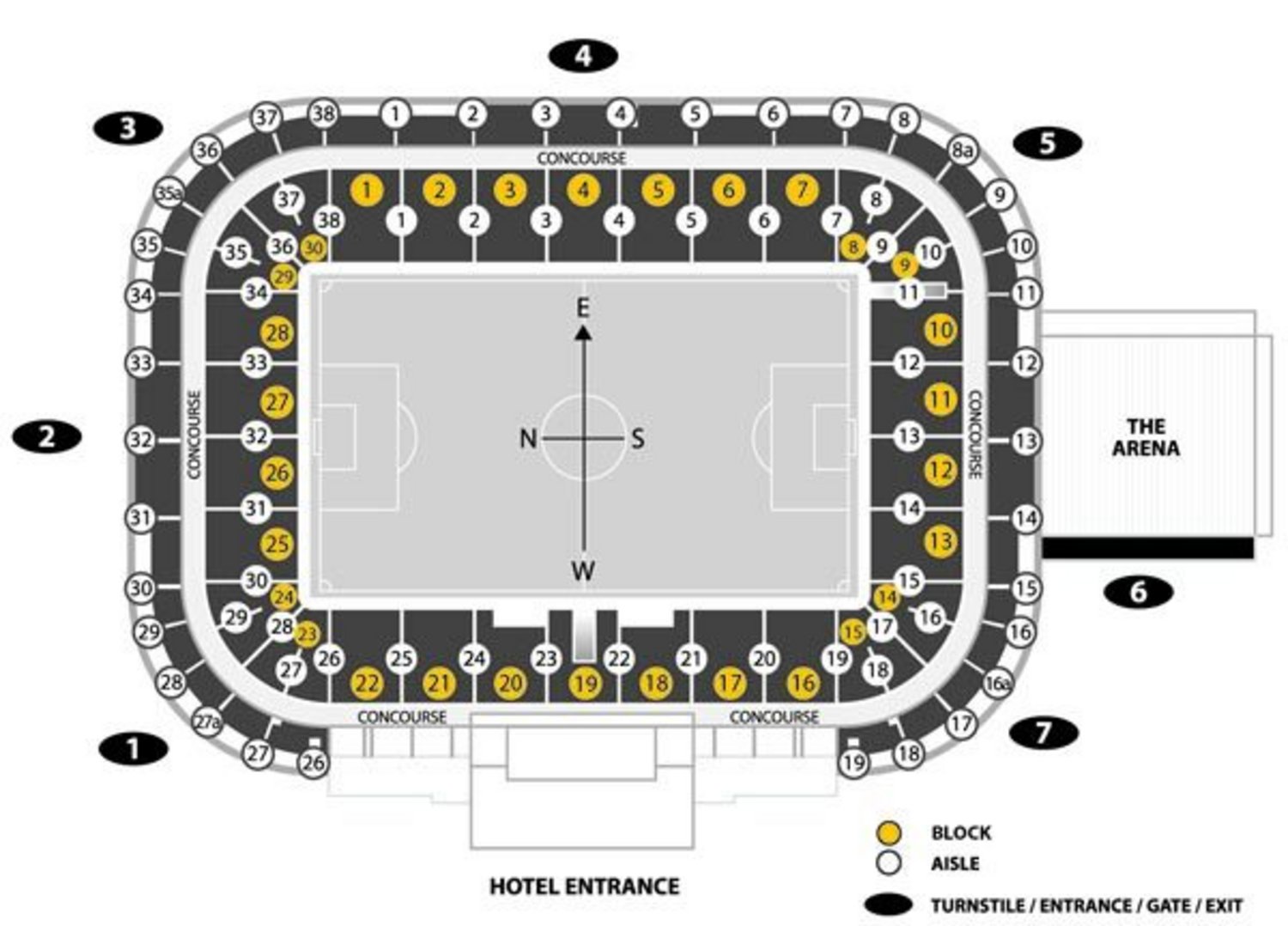 ---
MATCH DAY INFORMATION
TICKET OFFICE opens at 9am
ARENA MATCH DAY VILLAGE opens at 11am, featuring the same food outlets as you would find at Franklin's Gardens
MAIN STADIUM opens at 11am
KICK OFF is at 1:45pm
RUGBY WORLD CUP SEMI-FINAL kicks off at 4pm, with big screens located in the Arena Match Day Village
Please note that the Arena Match Day Village is included within the turnstiles, and once you have entered pass-outs will not be possible. The stadiummk concourse allows you access to all blocks from the Arena.
Public catering outlets in the Arena are predominantly cash only, except for the main Arena bars, which also accept payment by debit/credit cards. Outlets on the concourse can accept both cash and card, including contactless.
STADIUMMK IS A NON-SMOKING VENUE
Entry into stadiummk is subject to the venue's ground regulations.
---
CAR PARKING AT STADIUMMK
Stadium car parking is only available to drivers who have been issued with passes in advance of the game; instructions and directions will be included with these passes when issued. If you do not have a car parking pass please do note attempt to park at stadiummk. A limited number of car parking passes are available to book for £5 (excluding admin fees) by CLICKING HERE.
Dropping off is permitted outside the hotel reception (with disabled drop-off points also outside Gates 2, 4 and 7), although collection will be limited post-match to allow for pedestrians to leave the stadium safely.
All traffic in stadium car parks will be held at the end of the match for up to 30 minutes to allow pedestrians to safely leave the site.
Car parks of MK1 Retail and Leisure, along with all other retail areas on the stadiummk site are for vehicles using those facilities only, and will be stewarded on the day. Patrons should also park considerately in the industrial areas surrounding the stadium, and NOT in the parking areas of the nearby retail and trade outlets, or in areas signed as privately owned, where there is a risk of clamping.
---
PUBLIC TRANSPORT
COACHES
Coaches will begin leaving Franklin's Gardens at 10:30am for coach ticket holders ONLY. The last coach will leave Franklin's Gardens at approx. 12noon, but do NOT leave it until the last minute!.
Coaches will begin returning from stadiummk after the final whistle of the Saints game, and will continue leaving until the Arena has emptied following the Rugby World Cup semi-final. All coaches are operating on a 'load and go' basis, so do not leave any personal belongings on any coach.
BUSES
A number of scheduled bus services run between Central Milton Keynes and stadiummk. These include services run by Arriva (numbers 1, 5, 6, 70, F70) and Vale Travel (services 24, 25), all of which stop at Milton Keynes Central train station and either at, or very close to, stadiummk. For full information head to www.arrivabus.co.uk/south-east/places/MK
TRAIN
Central Milton Keynes is served by Virgin Trains and London Midland. Bletchley station is served by London Midland, but does not have the same level of bus service provision to get you to the stadium.
BIKE AND ON-FOOT
Bicycle parking is available at Gates 1 and 5, and stadiummk is accessible on the Milton Keynes redway syste,. Please keep to footpaths and underpasses.
---
ENJOY YOUR DAY AT STADIUMMK!