Of all the hundreds of men who have worn the Black, Green and Gold, I'm not sure any have a story as extraordinary as that of Robin Harrison, writes BBC Radio Northampton's Graham McKechnie.
Just how did this mild-mannered solicitor – who made 99 appearances for Saints and became the Club's second British & Irish Lion in 1910 when he toured Argentina – find himself commanding a battalion of Armenian soldiers outside Baku? Six years earlier he was running out at Franklin's Gardens with Edgar Mobbs (photo below); now he was trying to organise the defence of a foreign city as Turkish forces gathered ominously.
We left Harrison last week as his service record indicated he had been sent on a 'secret mission' in the First World War. Like many men of his generation, the WW1 changed the course of Robert (also known as Robin) Harrison's story, but also provided him with the most extraordinary adventure imaginable.
After volunteering for overseas service and leaving Canada in 1916, Harrison found himself back in England with the 5th Battalion (Western Cavalry). He was deployed to Houdain in May 1917, but his time with the 5th was relatively brief and peaceful, as the Battalion regrouped out of the line. In January 1918 a call went out for volunteers for a 'very secret' mission. Little else was said, other than it was a 'hazardous enterprise in a foreign theatre of war' and that the likelihood of death was high.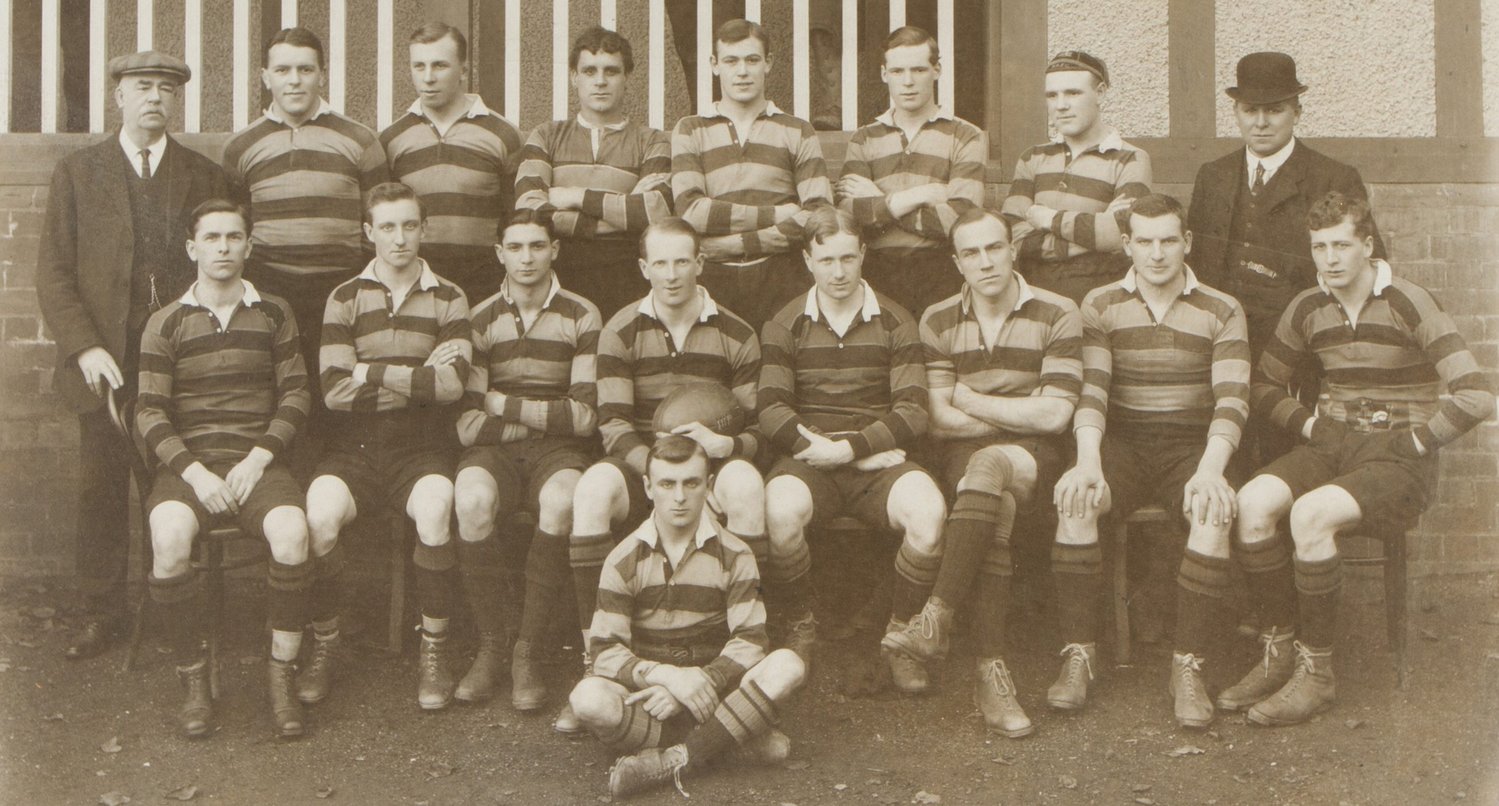 The mission took him out of the trenches of northern France and off to the Caucasus region – modern Azerbaijan. He was there as part of what was known as 'Dunsterforce' – a secret army sent to stop the Turks from taking Baku and potentially endangering the north-west frontier of India. From London they headed off across Europe to Mesopotamia (modern Iraq) as this brave band of soldiers headed into the unknown.
Harrison arrived in Basra with Dunsterforce in March 1918, and on 23 May he and a group of 300 men headed off into Persia – his job was to ride ahead of the main party with a group of 15 men and 30 mules to set up camp in advance.
Over the course of the next three weeks this party made an extraordinary journey through hostile land, covering more than 300 miles before arriving at the city of Hamadan. Harrison would spend two months in Hamadan, working in the HQ office, as the British tried to ease the appalling famine that had struck Persia. Women and children were given food, men were too, in return for work. Harrison was also given covert task of taking control of radio messages going out from Hamadan to the Turks – using it as an opportunity to exaggerate the size of Dunsterforce enormously.
In mid-August he would enter the final stage of his mission – the defence of Baku. The Turks were known to have surrounded the city, which was under control of moderate Communists – the 'Central Caspian Government' – who invited the British in to help hold the city. Harrison made his way there with four other officers, arriving to be greeted by General Dunsterville himself and his small staff.
For a city under siege, Harrison was surprised to find that "life was apparently proceeding as usual, the brightly lit promenade along the sea front thronged every night by a well-dressed crowd of Russian and Armenian pleasure seekers of both sexes." Harrison and two others were each given Armenian battalions to command (photo below), much to their delight: "We were the only three men who had really got jobs which we set out from London to handle."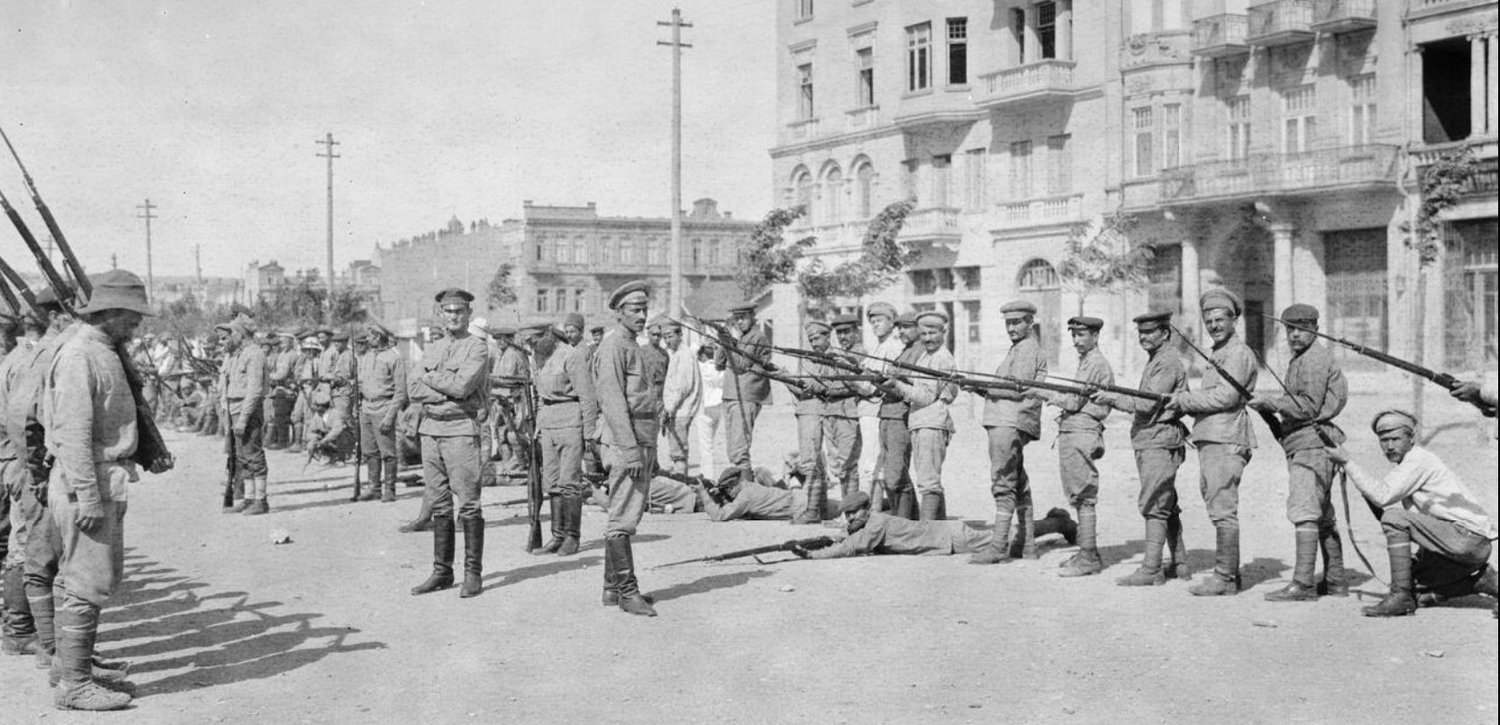 Harrison's delight would not last. His battalion was given a front of around two and a half miles to defend. The Armenian commander had little interest in the situation, unable to tell Harrison much about what they were facing or even how many men he had. According to Harrison, he was more interested in selling the battalion's grain and fodder to local villagers and although put on great shows of bravado, was known to scarper at the first sign of danger. The soldiers serving under him appeared not to be much better. Harrison often found them asleep or absent from their posts, they refused to move forward when he wanted working parties to improve their defensive position and to his horror some villagers taken as prisoners were murdered by the men after interrogation.
Sure enough, when the Turkish attack came after almost two weeks in this position, the Armenian commander fled. But to his surprise, his men stood firm as the Turks sent forward their cavalry, followed by the infantry. Working with a Russian officer, a battalion of around a thousand Cossacks, some British infantry and his Armenians, they held the line. "The Armenians did a good day's work," he later wrote. "As long as I was with them, they appeared to be willing to fight. Towards the evening the Turkish attack petered out and we felt rather pleased with our conduct."
Despite the success of Harrison and the 24th Armenian Battalion, things had not gone so well elsewhere and by 1 September a withdrawal back to the outskirts of Baku was inevitable. He dropped back to the edge of a salt lake, witnessing as he did the massacre of a company of Warwicks by the Turkish cavalry, watching on helplessly and in despair. By the time Harrison himself reported to headquarters in Baku there was one thought on everyone's mind: evacuation.
In the last days before the fall of Baku, Harrison found himself on the far left of the defensive line, organising six Armenian battalions. He was relieved on 10 September, being employed instead at headquarters decoding messages, learning as he did that the Turkish forces were swarming towards Baku. It was time to leave – the decision made all the easier for the men of Dunsterforce as the local authorities prepared to hand the British over to the advancing Turks. With the city in chaos and the population panicking, Harrison was given the job of helping men aboard the ships. Eventually he left on board the Kursk, crewed by friendly Bolsheviks sympathetic to their plight. They sailed for Enzeli while Baku burned.
Robin Harrison returned to Canada in July 1919, picking up his life once more as a solicitor in the small town of Minnedosa. More children followed – another son and three more daughters. During the Second World War he answered the call once more, staying in Canada this time, training prospective officers. He gave up practising law in 1936 to become postmaster of Minnedosa until his retirement in 1952.
To his granddaughter Penny he was a fun, kindly old man with a black Labrador and a beautiful garden. He kept bees which and gave his grandchildren fresh honey on their porridge in the morning.
Robin Harrison died in 1953 at the age of 70. "To people of the younger generation he was almost a legend," wrote the local paper in Minnedosa. "He had walked and talked and served with the great in many places, yet he was never too busy or impatient to talk to his humble neighbours. Robin Harrison will no longer climb from his comfortable bed and journey forth into the mists of autumn to hunt the geese and ducks he alone could cook so well….He was above all a great gentleman."
A great Saint too, for what he did on the rugby field in Northampton, Argentina and beyond. He deserves to be better remembered as the club's second Lion but also for the remarkable and full life that he lived. He must take his place on the list of the greatest to have worn the Black, Green and Gold jersey.