After months of hard and intensive work, a new-look Franklin's Gardens is being unveiled this Saturday. So make sure you take some time to read this information to get ready for your day at the home of the Saints!
CHANGES THAT HAVE BEEN MADE
As well as the thousands of new seats in the Barwell Stand, there have been a number of other significant changes at the Gardens, including:
- New block designation, from letters to numbers. Block 1 is in the Tetley's Stand, with Block 30 in the Barwell Stand. The Gordon Terrace remains the same
- New turnstile blocks in the north-east and north-west corners, and a new access control system for every turnstile
- New food and drink facilities in the Village, including a special real ale bar, and the new Members' Bar in the Barwell Stand. Please note that the West Stand Bar is still being used as the site contractors' office
- Two new big screens, and new LED advertising boards on the Barwell Stand and in front of the Tetley's Stand
ACCESSING FRANKLIN'S GARDENS
Please ensure that you arrive earlier than you may have done in the past, especially because Saturday's game against Saracens is being preceded by the annual Remembrance Ceremony.
All public car parking is in Car Park D on Edgar Mobbs Way (directions are available at www.northamptonsaints.co.uk/matchday). Do not try to park in Car Parks A, B or C unless you have a pass. The Weedon Road car park will be available to personal callers to the Saints Superstore and Ticket Office before 12noon only.
Use the turnstiles which are closest to your seating block; do not use the Village turnstiles just because they are close to the car parks, especially if you are in the Barwell Stand. This is to avoid as much congestion as possible in the tunnels through the Burrda Sport Stand.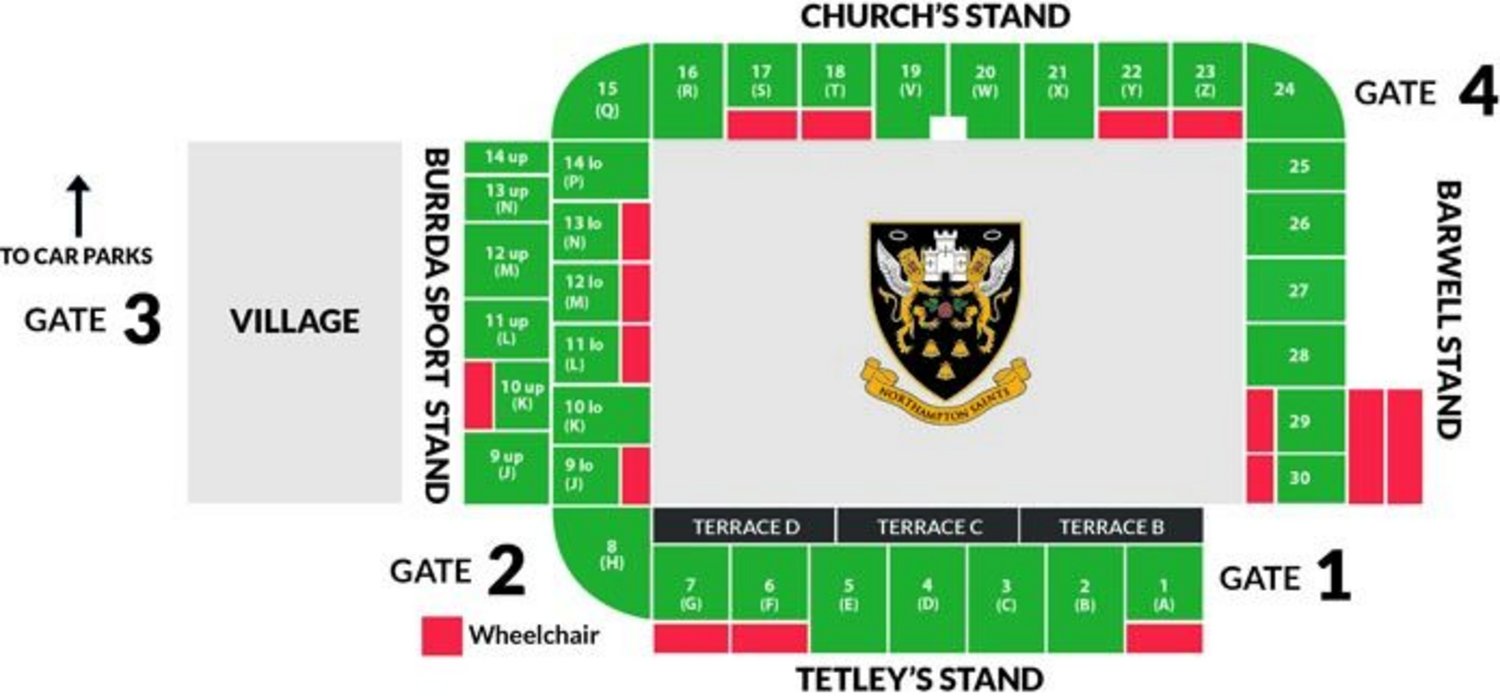 HOW YOU CAN HELP
- Plan in advance which turnstile block you need to use, and how you're going to access Franklin's Gardens
- Bring your 2015/16 Season Card with you to the game (or a valid match ticket). If you have requested a re-print make sure you bring the card with the latest Issue Number on it (they start at 0, the 1, 2, and so on). Earlier cards will not work
- Arrive as early as you can to avoid any unnecessary delays in entering the stadium and finding your seat
- Do not watch the warm-ups from the side of the pitch; instead go straight to your seat or terrace block before 3pm. This will keep walkways around the pitch clear and avoid delays
- Do not go onto the pitch after the game. Our groundstaff will begin essential maintenance immediately after the final whistle and need the playing surface to be clear
THANK YOU FOR YOUR UNDERSTANDING AND CO-OPERATION, AND ENJOY YOUR DAY AT FRANKLIN'S GARDENS!